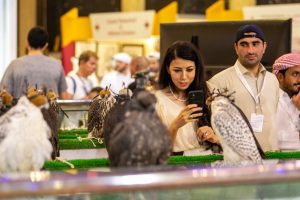 Katara International Hunting and Falcons Exhibition, popularly known as S'hail, wrapped up on Saturday after a grand ceremony that captured global interest last week. The exhibition kicked off on 5 September and attracted participation from 190 companies, featuring an array of hunting and falconry equipment, trekking supplies, and more.
In an official statement, Prof. Dr. Khalid bin Ibrahim Al Sulaiti, General Manager of Katara, highlighted the exhibition's standout features of organisation, diversity, and innovation. "S'hail serves as a global platform for enthusiasts and businesses to exchange experiences, strike deals, and showcase the latest products," he said.
Similarly, Mohammed bin Abdul Latif Al Misnad, Vice Chairman of the Supreme Organising Committee, underscored the event's significance among specialised international exhibitions and its commitment to enhancing each iteration.
beIN to take legal action after CAF terminates $415 million contract
Wing A, which sprawled across Al Hikma Square, displayed a collection of rare and high-end falcons.
Wing B focused on firearms and hunting rifles, whilst Pavilion C showcased customised four-wheel-drive vehicles and camping equipment designed for wilderness adventures. The exhibition also featured a successful online auction where a free chick falcon was auctioned for QAR 177,000, won by Mubarak Rashid Meshlash Al Khayareen Al Hajri.
In line with its global reach, S'hail attracted exhibitors from Qatar, the Gulf, and beyond.
The companies showcased the latest in hunting equipment, including firearms, falconry supplies, and specialised four-wheel-drive vehicles equipped with cutting-edge technologies.
The vehicles are especially significant for adventure-seekers embarking on wild excursions, reaffirming the exhibition's status as the largest showcase dedicated to the heritage of hunting and falconry in the Gulf and Middle East region.
The conclusion of the Katara International Hunting and Falcons Exhibition, S'hail, marks not only a celebration of hunting and falconry but also highlights the potential for the hospitality and tourism industry in Qatar. As this unique and globally recognized event successfully brought together enthusiasts and businesses from around the world, it underscores the growing interest in Qatar as a destination for cultural and specialized exhibitions. BM Events (BME), as a leading provider of hospitality solutions, recognizes the significance of events like S'hail in boosting tourism and creating opportunities for the hospitality sector. With our casual on-demand hospitality staffing solutions, BME ensures that such events run seamlessly, offering top-notch service to visitors, exhibitors, and participants. Our commitment to excellence aligns perfectly with the growing demand for hospitality services in Qatar's flourishing events and exhibitions landscape, contributing to the country's reputation as a premier destination for cultural and specialized gatherings.